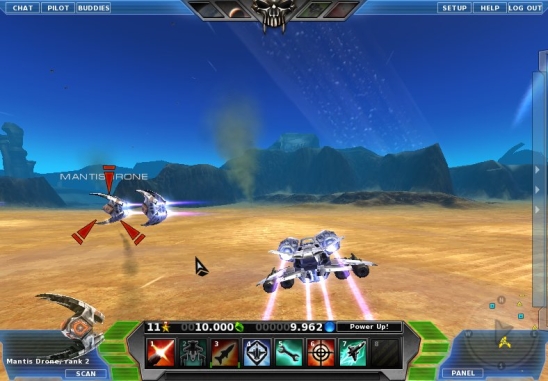 1) Choose Your Name
Right at the start of the game you'll be asked to choose a name for your pilot, this is how you'll be known in this galaxy. All players start with the same spaceship – as the game progresses, you can acquire new ships depending on the type of game you've decided to play.
2) The First Mission
Once you've selected your character's name, you find yourself on Vega 2 – a planet controlled by the Mantis. You are catapulted directly into battle, but don't worry, the Mantis drones will be nothing more than target practice – at first. Your commander will keep in contact via radio and explain each stage of your mission, you'll see their messages in the top left of the screen. Click on the messages to read and dismiss them. Navigate using either the W, A, S and D or simply click on a target to go there or follow it.
3) Orbit
Once you have successfully completed the first mission, you will be told to blast off and go into orbit - a panel will appear at the top of the screen. In orbit, you'll be introduced to the various menus that control your ship. When you are ready, you'll find further missions in the control panel - accesible by clicking panel at the bottom of your screen or pressing the space key.